Deadline: 20 September 2019
Applications are open for Invest2Impact Competition which is looking for 100 women-led businesses in East Africa to support with a range of access to funding programmes, business support, and multi-national networking.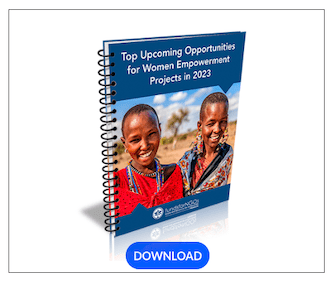 Invest2Impact is a programme of the Development Finance Institutions (DFIs) of Canada, France, the United Kingdom and United States, in partnership with the MasterCard Foundation, as part of the global 2X Challenge.
Prizes
WOMEN'S EMPOWERMENT
USD25,000
To recognise real empowerment and participation of women in the boardroom and in the workplace.
YOUTH EMPLOYMENT OR ENTREPRENEURSHIP
USD20,000
To recognise a business that is empowering young people and inspiring young achievers.
CLIMATE CHANGE AND THE ENVIRONMENT
USD20,000
To recognise a business that is working to address climate change and promote a green economy.
LEVERAGING TECHNOLOGY FOR SOCIAL GOOD
USD20,000
To recognise the innovative use of technology to improve lives and support healthy communities.
Why you should enter?
Are you looking for funding to take your business to the next level?
Do you value networking with business leaders and other entrepreneurs?
Do you want to explore crowdfunding for a new product or innovation?
Would you like to attend a major international Expo or Trade Show in your industry, with your expenses paid?
Would you like to work with business and funding experts to sharpen your strategy and be more competitive?
If applicants answered "yes" to even one of the questions above, Invest2Impact can benefit applicants. Invest2Impact will move applicants closer to applicants funding goals, provide applicants with market access, expert business coaching and multi-national networking opportunities.
By entering the competition applicants could be selected as one of 100 women entrepreneurs to participate in the Invest2Impact funding and business support programme, and win a share of USD85,000 in prizes.
Eligibility Criteria
These are the criteria for businesses to qualify to enter the competition.
Country
Applicants business must be based (registered and operating in) one (or more) of the following countries: Ethiopia, Kenya, Rwanda, Tanzania, Uganda;
Applicants business may operate in a country/countries outside of the above list but must be majority owned (more than 51%) by at least one woman who is a national of one of the countries listed above.
Business
The competition is open to both small and medium-size businesses. The Invest2Impact sponsors and partners are looking for businesses that require funding in the following categories:

Funding up to USD100,000
Funding between USD100,000 and USD3-million
Funding between USD3-million and USD8-million
Funding for more than USD8-million

If applicants fall into one of the above categories, they invite applicants to enter the competition to receive funding readiness and access support.
Minimum criteria
To enter, a business must have been operating for at least three years, and meet ANY TWO of the following three criteria:

At least 5 employees;
Revenues of at least USD50,000 per annum;
Assets of at least USD50,000.
Women ownership
The business must be minimum 51% owned by women national(s) of one or more of the countries listed above;
was founded by women national(s) of one or more of the countries listed above (even if their current ownership is now less than 51%).
Businesses can enter in any industry sector.
Businesses which support the UN Sustainable Development Goals (SDGs) are particularly welcome to enter and can score additional points in the entry form.
Activity exclusions
Certain businesses are not permitted to enter.
Through the competition, 100 entrepreneurs will be selected to participate in one or more of the Invest2Impact programmes:
2Xcelerate: Direct, face-to-face engagement with one or more of the four Invest2Impact financial institutions to review applicants funding requirements, readiness and business plan – tailored support for access to funding.
2Xcapital: Expert advice and support to unlock funding from other SME funders. Leverage Invest2Impact's expertise, relationships and network to build and promote applicants business investment case.
2Xcrowd: A special programme designed for smaller businesses with innovative products or social impact . Receive expert, customised support to develop and implement an African and global crowdfunding campaign.
2Xcatalyse: This programme will fund an all-expenses-paid trip to a major conference, trade show or expo in applicants industry, in Africa or elsewhere. To maximise the benefit, a mentor will help applicants prepare applicants event marketing pack. A great way to build applicants business profile, grow applicants network, meet potential customers and put applicants business on the map.
2Xconnect: All 100 selected entrepreneurs will also be part of the 2Xconnect business network – building new relationships and sharing knowledge and opportunity in each country, the East Africa region and internationally.
How to Apply
Applicants can apply via given website.
For more information, please visit https://invest2impact.africa/