Deadline: 20 January 2020
American India Foundation (AIF) is seeking applications for its William J. Clinton Fellowship For Service in India that Helps transform the lives of millions of people in India by giving a little.
The American India Foundation (AIF) is committed to catalyzing social and economic change in India, and building a lasting bridge between the United States and India through high-impact interventions in education, livelihoods, public health, and leadership development. Working closely with local communities, AIF partners with NGOs to develop and test innovative solutions and with governments to create and scale sustainable impact. Founded in 2001 at the initiative of President Bill Clinton following a suggestion from Indian Prime Minister Vajpayee, AIF has impacted the lives of 5.6 million of India's poor.
AIF's William J. Clinton Fellowship for Service in India is an immersive, interdisciplinary, experiential leaning program that places young professionals in service with development organizations in India. AIF selects, trains, and supports Fellows through professional development and mentoring during their ten months of service.
Fellows work on scalable and sustainable development projects in the fields of education, livelihoods, and public health. Through collaboration and capacity-building, Fellows and local communities form dynamic partnerships to exchange knowledge and skills, and share a mutual passion for advancing social and economic development. Fellows support AIF's partner organizations at a crucial moment of scalability by meeting their human resource and organizational needs.
Expenses
For U.S. Fellows, AIF provides a roundtrip ticket from their point of origin to India, along with insurance coverage, emergency support, and a monthly living stipend. For Indian Fellows, AIF provides domestic travel from their hometowns in India, insurance coverage, emergency support, and a monthly living stipend. Please note that the stipend is not a salary, but a living allowance designed to enable Fellows to volunteer in India.
The stipend covers basic living expenses such as rent, meals and incidentals, and local transportation related to a Fellow's project.
In the spirit of service, the stipend is designed to afford Fellows a local lifestyle comparable to that of local staff at their host organizations. Fellows should expect to live modestly, and may need to adjust to a different style of living and spending habits than what they are accustomed to.
The stipend does not cover for personal entertainment, non-program related travel, luxury items, or alcoholic beverages. Candidates should plan on bringing additional funds to allow for personal travel and other non-essential items.
Travel depends entirely on the project and the AIF partner organization. Some placements require travel to villages in surrounding areas or remote regions for fieldwork, while others are more administrative, requiring little to no travel within a regular office setting. Again others may require constant travel to various partner offices and field sites.
Eligibility Criteria
Fellowship applicants must:

Be a U.S. or Indian citizen, or a U.S. permanent resident;
Be between 21 and 34 years of age by September 1, 2020;
Have completed a Bachelor's degree or higher by September 1, 2020.

Qualifications

AIF Foundation seek Fellowship applicants from a variety of backgrounds, both professionally and personally, to join the interdisciplinary cohort.
Candidates should demonstrate a deep interest, passion, and commitment to social and economic development in India.
Candidates must show humility and an eagerness to learn within a cross-cultural context. Ideal candidates possess strong professional skills, relevant volunteer or other practical experience, and applicable academic credentials or training.
They demonstrate a strong commitment to service and are entrepreneurial, innovative, and creative in finding solutions in under-resourced organizational environments.
How to Apply
Applicants can apply via given website.
Eligible Countries: United States, India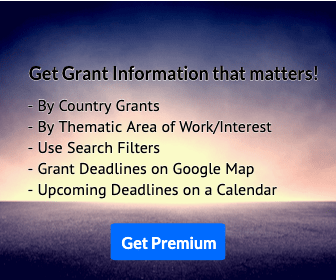 For more information, please visit https://aif.org/fellowship/fellowship-application/