Deadline: 16-Oct-21
Applications are now open for the 2022 Ashoka Fellows Program to support social entrepreneurs whose project has already been implemented and has shown a potential for high social impact, who solve problems on issues such as caring for the environment, gender equality, the balance between technology and humanity and who promote policies to promote and build a social balance, among others.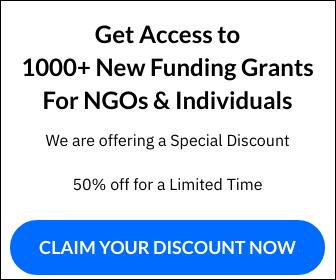 The Ashoka Fellows that are selected receive financial and professional support and collaboration among peers to expand their transformative capacity in a significant way, and at the same time build and activate networks to promote spaces where all people can develop as Agents of Change that contribute to the common good.
Ashoka strives to accelerate a world where problems do not outperform solutions, what they call a world of Agents of Change. The social entrepreneurs innovators play a role central, as well as agents of change of all kinds, who work on big or small problems and in all contexts: schools, companies, governments, families, etc. To the candidates who do not enter the network of fellows, they seek to connect them to the various initiatives and communities of change.
How do they support Social Entrepreneurs?
A selected time / os, the / os entrepreneurs / is social is join a lifelong network that gives them access to a variety of opportunities -visibility, resources, contacts- in order to boost the growth of your innovative solutions and collaborate in the creation of initiatives and collaborative
proposals
for change.
Community and Global Movements

Connection with more than 3500 Fellows in the world for collaboration, exchange and support.
Opportunity to join or lead global movements.

Pair Network

Access to mentoring and advice from a global network of business entrepreneurs and leaders from different fields (business, social, academic, public).
Networking events.
Connections with pro bono partners, global companies, and programs to scale impact.

Visibility

Alliances with media, social networks and influencers.
Large national or international events.
Opportunities for public presentations of the entrepreneur.

Transforming Skills

Training and acceleration programs (eg Ashoka Globalizer).
Personal coaching and leadership programs (eg Wellbeing Initiative).

Resources and Investment

Stipend of up to 3 years to dedicate full time to developing the idea. Connections with funders and investors.
Eligibility Criteria
The call seeks to increase the number of applications from entrepreneurs with a presence outside of
Mexico
City and in other Central American and
Caribbean
countries.
Selection Criteria
Ashoka's selection process is based on five criteria, with which they evaluate all candidates:
A new idea: Proposes a project with innovative strategies, methods or approaches that radically modify how a sector operates and not only address the symptoms of a problem.
Creativity: Engineers different approaches to the opportunities and problems of the world. The candidate has original ideas when implementing his project, overcoming obstacles and building a vision for the future.
Ethical fiber: The candidate demonstrates solid ethical principles and commitment to others, and stands out for his determination, courage, dynamism and perseverance.
Entrepreneurial trajectory: There is evidence of his implementation of projects and initiatives and he has shown determination and ingenuity in other stages of his life; as well as a strong commitment to the cause to overcome all obstacles.
The social impact: the initiative solves a problem at its roots. It has the potential to generate geographically scaled impact, and demonstrates its potential with qualitative or quantitative impact data.
For more information, visit https://www.ashoka.org/es-mx/convocatoria-ashoka-fellows-2022