Deadline: 5-Nov-21
The Box is offering 2021 Box Impact Fund that will support digital transformation projects in two key areas: child welfare and crisis response.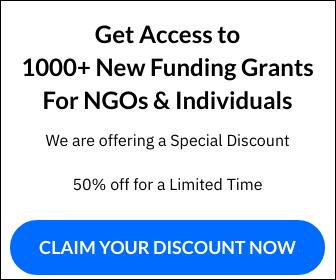 Areas
Driving digital transformation: As they work to power how the world works together, supporting digital transformation within the nonprofit space is core to the mission — and they are excited for the chance to partner with you. Your application for funding might include:

Moving from paper to cloud-based processes
Training and enablement programs to help employees use new technology
Funding for an IT administrator
A pilot project to test your idea before rolling it out at scale

Empowering child welfare: Angels Foster Family Network, CASA of San Mateo County: These are just a few of the customers doing amazing things in the child-welfare space. They want to amplify the impact by supporting digital transformation for nonprofits working in child welfare systems around the world. Your application for funding might include:

Foster-care programming and services
Legal services supporting children and young people separated from their parents
Services for orphaned children and young people

Supporting crisis response: They have supported crisis response nonprofits for years, including Oxfam, IRC, and Team Rubicon Global. The Content Cloud provides secure collaboration from any device — a fundamental need when coordinating missions across countries and terrains. They are eager to support you as you help people in the aftermath of natural disasters or relocate refugees to safer places. Your application for funding might include:

Providing up to date topographic data to resources on the ground
Setting up mobile hotspots to enable communications
Creating digital application and workflow automations to apply for emergency funds
Funding Information
Box will be donating $100K in four $25K awards within a 12 months period.
Eligibility Criteria
The Box Impact Fund supports digital transformation projects in two key areas: child welfare and crisis response. If your organization is actively engaged in child welfare and crisis response efforts, and you see an opportunity where digital transformation could help your work, they did love to receive an application from you.
Organizations eligible for the Box Impact Fund have a declared and verifiable charitable or philanthropic mission to benefit communities. Organizations must have a recognized legal status in their respective country: United States, Canada, Argentina, Australia, Austria, Bangladesh, Belgium, Bermuda, Bolivia, Bosnia and Herzegovina, Brazil, Bulgaria, Burkina Faso, Cameroon, Chile, Colombia, Costa Rica, Cyprus, Czech Republic, Ecuador, Egypt, Estonia, Finland, France, Germany, Ghana, Greece, Guatemala, Guyana, Honduras, Hong Kong, Hungary, India, Ireland, Israel, Italy, Jamaica, Japan, Jordan, Kazakhstan, Kenya, Korea, Latvia, Lithuania, Luxembourg, Malaysia, Malta, Mexico, Moldova, Morocco, Nambia, Netherlands, New Zealand, Nicaragua, Niger, Nigeria, Northern Ireland, Norway, Pakistan, Palestine, Panama, Paraguay, Peru, Phillippines, Poland, Portugal, Puerto Rico, Romania, Russia, Rwanda, San Salvador, Scotland, Singapore, South Africa, Sweden, Switzerland, Taiwan, Thailand, Turkey, Uganda, United Arab Emirates, United Kingdom, Uruguay, Venezuela, Vietnam, Zimbabwe.
Criteria
Applications will be evaluated on four criteria:
Alignment: Demonstrate clear alignment with a digital transformation focus in the child welfare or crisis response areas
Impact: Show potential for impact and the difference this project will make for your organization, and those you help
Inclusion: Include a plan for inclusion of key stakeholder voices, buy-in and support
Scale: Share your plan for achieving scale, including possible challenges and how you will address them
For more information, visit http://www.box.org/impact-fund