Deadline: 17-Jul-20
The Rural Resilience Activity is pleased to invite Nigeria-registered social enterprises, for-profit businesses, Community-based Organizations (CBOs), Business Membership Organizations (BMOs) and non-profit organizations to submit an application for an award.
The Rural Resilience Activity (RRA) is a Feed the Future initiative funded by the United States Agency for International Development (USAID). Mercy Corps is the prime implementer and is in partnership with Save the Children International (SCI) and International Fertilizer Development Center (IFDC).
The goal of the Rural Resilience Activity is to 'facilitate and protect economic recovery and growth in vulnerable, conflict-affected areas and sustainably move people out of chronic vulnerability and poverty via expanded opportunities'. This goal will be achieved through the following four major components:
Provide up-to-date evidence for the selection of market systems, livelihoods, and employment opportunities that contribute to inclusive and resilient growth and improved nutrition.
Stimulate market systems growth and diverse economic opportunities (Pull activities).
Build capacity to take advantage of market systems opportunities (Push activities).
Sequencing, layering, integrating (SLI), and collaborative learning to improve activity effectiveness, sustainability, and scale.
The Rural Resilience Activity will be implemented using a resilience, market systems development, conflict and nutrition-sensitive approach, to stimulate sustainable, systemic change at scale and bring long-term improvements to conflict-affected households, businesses, and institutions. This will involve multiple partnerships with the private sector and government actors. The Rural Resilience Activity places a deliberate priority on targeting women and youth. The activity targets sectors/value chains including but not limited to: maize, cowpea, groundnuts, rice, sheep and goats, agricultural inputs, financial services and other urban/peri urban labor-intensive job creating sectors specifically targeting women and youth.
Objectives
The Rural Resilience Activity's Innovation Fund is designed to catalyze new investments in viable economic opportunities (market systems, livelihoods, agribusiness, and employment), stimulate market development and thus reduce the economic, social, and environmental drivers of conflict. The fund will rapidly identify and support Nigerian firms at a national level and their local and regional business partners. It will target businesses and institutions working in labor-intensive and women-dominated agricultural and non-agricultural sectors and who have been disproportionately impacted by the conflict and other shocks and stresses.
Areas
Applicants should propose activities that incorporate and ultimately benefit smallholder farmers and MSMEs in at least one of the following intervention areas:
Increase access to agricultural inputs, specifically post-harvest storage solutions
Improved technologies including time-saving, productivity enhancing agricultural technologies and digital technologies such as fintec, precision farming, etc.
Increased access to financing for large firms, smallholder farmers and MSMEs.
Better agricultural and business management practices resulting in improved competitiveness, productivity, income, gross margin and yields for smallholder farmers and MSMEs.
Expansion of market access for smallholder farmer commodities through improved services by offtakers, processors, and other institutional markets resulting in premium and high-value prices for smallholder farmers and MSMEs.
Diversification of products and or marketing channels enabling increased access to information, advisory and extension services at the last mile, ultimately helping smallholder farmers and MSMEs to be more resilient to climate (e.g. droughts, heavy rains etc.), health (e.g. COVID-19, etc.) and other shocks and stresses
Creation of new private sector, rural and urban employment and entrepreneurship opportunities.
Funding Information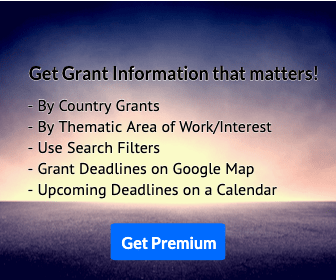 The total value of each award from the Rural Resilience Activity for this solicitation is estimated to range from US$10,000 – US$500,000 with 10 to 20 partnerships anticipated.
The proposed projects are anticipated to begin in September 2020 and end on or before August 31, 2022.
Eligibility Criteria
The Rural Resilience Activity's Innovation Fund invites applications from social enterprises, for-profit organizations, private sector companies, CBOs, BMOs, and non-profit organizations that meet the definition of 2 CFR 200.70 and which are registered in Nigeria.
Foreign Organizations (referred to as non-U.S. NGOs) which can be either nonprofit or for-profit organizations that meet the definition in 2 CFR 200.47 can apply as part of a consortium. However, the lead applicant must be legally registered in Nigeria.
Applicants must target activities in one or more of the following geographic areas and/or value chains.
Notes:

Applicants can propose working outside of the Local Government Areas below provided that potential program participants (beneficiaries) are in at least one of the targeted States. Activities conducted by applicants outside these States or which do not directly benefit smallholder farmers and MSMEs resident in the States indicated below would not be funded under the Rural Resilience Activity's Innovation Fund and will not count towards cost share or leverage.
Rural Resilience Activity recommends that applicants should target their activities within the suggested Local Government Areas, as these are areas with comparative advantages vis-à-vis value chains, safety and other enabling factors.
For more information, visit https://mcnigeria.com/rra-innovation-fund/