Deadline: 3 Sept 2020
Enabel is seeking proposals to Support the Development of Female Entrepreneurship on the Conakry – Kindia – Mamou.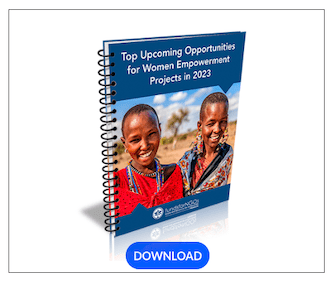 As part of their 2019-2023 bilateral cooperation, Guinea and Belgium have agreed to put implementing actions aimed at inclusive and sustainable economic development, development human rights and respect for fundamental human rights on the Conakry-Kindia-Mamou Axis. These thematic and these actions constitute a coherent whole called "Guinea portfolio". This portfolio is divided into three pillars (programs) including the Entreprenerd program which includes three interventions, namely:
Agricultural Entrepreneurship;
Urban Entrepreneurship;
Female Entrepreneurship
In addition to the ratification of these conventions, major efforts remain to be made in the awareness of communities and stakeholders to overcome socio-cultural constraints, facilitate the participation of women in decision-making within the household, communities and other bodies and the inclusion of women's interests in the political agenda by aiming for equality of right and luck.
Objectives
This call for proposals will be carried out in a single lot and has two objectives.
The first objective is to raise awareness among all community, political, religious and girls / women in order to remove socio-cultural constraints that hinder women's economic empowerment through awareness raising on the Conakry-Kindia-Mamou.
As for the second, it will be a question of strengthening soft kills (leadership, self-esteem, negotiation …) of women entrepreneurs and support the brokers, the organizations of the civil society to identify and develop participatory strategies and themes specific advocacy with decision makers to facilitate equality of law and opportunity to foster a favorable business environment for them locally and nationally.
Expected Results
The expected results are:
Adapted themes and tools including digital are developed for the organization of the awareness and advocacy.
All communities and stakeholders are made aware of the mitigation of barriers and barriers related to women's economic empowerment.
Groups of women leaders are identified and trained, then supported by the contracting beneficiary to defend the interests of women.
Funding Information
The overall indicative amount made available under this call for proposals is three one hundred and fifty thousand (350,000) EURO. The contracting authority reserves the right not to allocate all available funds.
Subsidy amount
Any grant request under this call for proposals must be between following minimum and maximum amounts:

Sensitization: Minimum Euro 150,000 maximum Euro 200,000
Advocacy: Minimum Euro 100,000 Maximum Euro 150,000
Total: Minimum Euro 250,000 Maximum Euro 350,000
Eligibility Criteria
In order to be eligible for grants, the applicant must meet the following conditions:
Be a legal person;
Be a private non-profit actor or a foundation;

Being a legal person under private law whose profit maximization does not constitute the priority objective.
Be directly responsible for the preparation and management of the action with the co-applicant (s)) and not act as an intermediary.
Have at least eight years of experience in the accompaniment and support of the structures of the civil society
Have at least eight years of experience in socio-anthropological fields.
Have at least eight years of experience in capitalizing on projects / programs empowering women.
Have proven skills in the development of digital tools including awareness and advocacy on women's empowerment.
Have at least five years of experience in Guinea or West Africa.
Being able to justify previous experiences with an international donor in connection with the theme of this call for proposals;
Have already managed a project with a budget of at least 50% of the amount of the present Call for proposals (a completion certificate signed by the lessor is required and will constitute proof)
Be a specific type of organization such as: an organization or grouping national or international (intergovernmental) non-governmental organization
To be eligible for subsidies, the applicant must meet the conditions following:

The applicant may act either individually, or with one or more co-applicants or, if a partnership with co-applicant (s) is compulsory for the action: must act with co-applicant (s) in accordance with the following prescriptions.
The potential applicant may not participate in calls for proposals nor be the beneficiary of subsidies if he is in one of the following situations:
which are in a state of repair or which are the subject of a bankruptcy, liquidation or settlement procedure judicial or preventive arrangement, cessation of activity, or are in any situation analogous resulting from a similar procedure existing in legislation and national regulations;
who have been the subject of a conviction pronounced by a judgment having the force of thing tried (that is to say, against which there is no longer any recourse possible) for any offense affecting thei rprofessional morality;
who have been guilty of grave professional misconduct proven by any means which the contracting authorities can justify;
who have not fulfilled their obligations relating to the payment of social security contributions or their obligations relating to the payment of their taxes according to the legal provisions of country where they are established or those of the country of the contracting authority or those of the country where the market must run;
they have been the subject of a judgment which has the force of res judicata for fraud, corruption, participation in a criminal organization or any other illegal activity.
For more information, visit https://www.enabel.be/content/enabel-grants