Deadline: 26 May 2020
The U.S. Embassy seeks grant proposals from U.S. or Indian non-governmental organizations (NGO) to administer the "Young Innovators' Initiative," a new exchange program for approximately 50 young Indian specialists, ages 25-40, in science, technology, and new business development to travel to the United States for internships with American companies working in similar fields.
The internships would last approximately six months. The successful grantee will be responsible for recruitment, assessment (including but not limited to English language testing and other vetting) and selection of qualified candidates for this program; pre-departure orientations covering American society, social norms, culture, and business culture, etc.; coordinating with U.S.-based partner organizations responsible for placement of participants in appropriate internships; and re-entry orientations for participants returning to India to continue their careers.
Project Goal: Identify and select promising Indian entrepreneurs for internships in U.S. companies to develop their innovative and entrepreneurial skills, learn American business values and practices, and create sustainable linkages between U.S. and Indian innovative businesses that will foster ongoing collaboration when the innovators return to India.
Objectives
Up to 80 percent of the (50) selected interns will have a concrete, clearly articulated post-internship career plan after the internship has completed, as articulated in a closeout survey
Up to 80 percent will have plans to continue engaging or partnering with a U.S. company when they return to India to pursue their own business, as articulated in a closeout survey
Establish a network of alumni of this Young Innovators program that will be sustainable and provide ongoing value to its members
Theory of Change
If a U.S. or Indian NGO facilitates and thereby enhances the recruitment, assessment, selection, and initial orientation of young Indian interns at U.S. tech companies, then both these qualified interns and the businesses for which they intern will mutually benefit in terms of knowledge and experience sharing, thereby leading to enhanced business opportunities and new innovation in India, among other positive outcomes.
Deliverables
Recruit (50) promising Indian students, innovators, and entrepreneurs utilizing promotion, local networks, social media activity.
Complete (50) successfully completed (6) month internships that provide new knowledge and experience for young Indian innovators.
Identify, draft, and produce at least (10) success stories – recorded interviews, video clips, and other digital formats – highlighting participant experiences and knowledge gained during their internships in the United States.
Funding Information
Estimated Total Program Funding: $500,000
Award Ceiling: $500,000
Award Floor: $250,000
Project Audience: Educated Indian students, innovators, entrepreneurs, other top talent, age 25-40.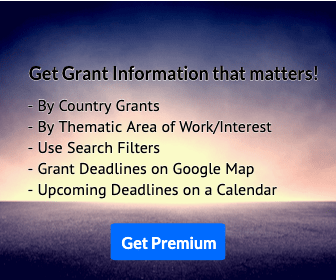 Eligibility Criteria
The following organizations are eligible to apply:
Please choose organization nationality and type: International Not-for-Profit Organization.
Organizations may sub-contract with other entities, but only one, non-profit, non-governmental entity can be the prime recipient of the award. When sub-contracting with other entities, the responsibilities of each entity must be clearly defined in the proposal.
This award does not allow:

Programs relating to partisan political activity;
Charitable or development activities;
Construction programs;
Programs that support specific religious activities;
Fund-raising campaigns;
Lobbying for specific legislation or programs
Scientific research or surveys;
Commercial projects;
Programs intended primarily for the growth or institutional development of the organization;
Programs that duplicate existing programs; or
Illegal activities
For more information, visit https://www.grants.gov/web/grants/view-opportunity.html?oppId=325930