Deadline: 17-Aug-20
The Public Diplomacy Office of the U.S. Palestinian Affairs Unit (PAU-PD) has announced an open competition for a cooperative agreement through this Notice of Funding Opportunity (NOFO). Not-for-profit non-governmental organizations are invited to submit proposals to implement a project that will promote Palestinian women as full participants in economic development, with the expected result of elevating the status of women in Jerusalem, the West Bank and Gaza and their economic activity, while also advancing the PAU-PD mission goals: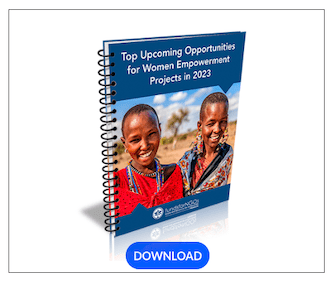 to advance peace and the development of a prosperous, stable, and transparent Palestinian society, economy and system of governance through substantive engagement with American people, institutions, ideas and ideals in order to improve American-Palestinian relations and create greater opportunities for mutually beneficial partnership and cooperation.
PAU-PD's Women and Economic Empowerment Program supports the design and implementation of activities to develop and promote women's entrepreneurship and their microenterprise activities. Building on PAU-PD's annual Women's Micro-Enterprise Bazaar, which has contributed to the growth of Palestinian women-run businesses over the past 8 years, they are now seeking projects that will encourage and promote innovative
business
ideas and entrepreneurship among Palestinian women, connect Palestinian women entrepreneurs to experts in the
United States
, and develop the potential for mutually beneficial exchange between American businesses and Palestinian women from Gaza, Jerusalem and the West Bank.
Objectives
The primary objective of this grant program is to develop Palestinian women participants who are interested in enhancing their entrepreneurial skills as well as improving their broad and diverse range of products and services; empower these entrepreneurs to expand their businesses to new markets; and promote shared economic prosperity between Palestinians and Americans. Proposed projects should support the design and implementation of activities to develop and promote women's entrepreneurship, increase women's economic empowerment, and elevate the status of Palestinian women in economic activity by connecting them to businesses, expertise, and mentors in the United States. Projects should aim to support the growth of women-owned small businesses and include a cadre of women entrepreneurs who will be selected in consultation with PAU-PD and who have already participated in previous U.S. sponsored Women's Micro-Enterprise Bazaars, exchange programs, and
training
programs.
All proposed projects must advance the PAU-PD goals stated above, contain a substantive American element, and achieve at least two of the three specific objectives listed here:
modernization of sales platforms;
improvement in quality of products and services; and
establishment of sustained connections between participating Palestinian business women and experts and markets in the United States.
Proposed projects should include at least one of the following activities to achieve the stated goals and objectives above:
Conduct a Needs Assessment that would address the most evident training and coaching needs of the participating Palestinian entrepreneurs and their businesses.
Mentor and develop women micro-entrepreneurs to refine their product selection, improve select product quality, and streamline their supply chain and production process to allow scaling up for better sales.
Equip women entrepreneurs with the training, resources, and expertise they need to successfully grow their businesses through online sales.
Design and launch an online sales platform for Palestinian microenterprises, including previous and future participants in U.S. sponsored Women's Micro-Enterprise Bazaars, to offer year-round development and sales opportunities and expand market reach for Palestinian businesses.
Provide strategic planning for business growth including, but not limited to, virtual consulting for individual entrepreneurs, businesses, or groups at similar stages of growth on developing a business plan to improve resiliency of businesses to adapt to market disruptions, as well as coaching, training, and mentorship for entrepreneurs at various stages of success.
Connect Palestinian entrepreneurs with potential American and international private sector investors and retailors to support long-term partnerships and develop export capabilities that lead to market expansion and business growth.
Provide virtual and/or in-person exchanges between Palestinian women entrepreneurs and American entrepreneurs, businesses, and public and private sector organizations to share expertise and best practices; develop sustainable relationships and partnerships; encourage innovation; and open new business opportunities through exposure to new ideas, markets, and partnerships.
Funding Information
Award amounts: $175,000 total available funding (awards may range from approximately $25,000 to $175,000)
Length of performance period: up to 24 months
Anticipated program start date: no earlier than September 30, 2020.
Priority Region: Jerusalem, the West Bank, and Gaza
Participants and Audiences
The project will focus on women entrepreneurs from Jerusalem, the West Bank, and Gaza who demonstrate innovation in their businesses and interest in enhancing their entrepreneurial skills. Participants will also include Palestinian women entrepreneurs and leaders of women-led organizations who have participated in previous U.S.-sponsored women's microenterprise programs or exchanges over the past 8 years. That experience has also included training sessions that covered topics such as marketing, social
media
, sales techniques, and pricing. Proposals should include a process to select participants in coordination with PAU-PD. PAU-PD will have substantial involvement in the final selection of participants.
Eligibility Criteria
Eligible primary applicants for funding must be U.S. Not-For-Profit Organizations or Palestinian Not-For-Profit Organizations.
Proposals must be submitted in English; proposals submitted in Arabic or other languages will not be considered.
Applicants wishing to submit proposals to the PAU Public Diplomacy Section should send a proposal detailing:

what they intend to do to achieve the goals and objectives outlined in this call for proposals (specific activities of the project);
the American and/or Palestinian institutions and entities with whom they plan to partner;
a budget narrative providing specific details on how the budget line-items will be used and what they will fund.
a clear monitoring, measurement and evaluation plan; stating specific, observable, and measurable indicators of success and the intended method(s) for measuring achievement of those indicators
For more information, visit https://www.grants.gov/web/grants/view-opportunity.html?oppId=327982