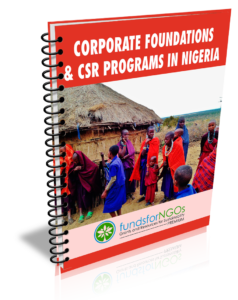 Fundraising from companies is quite different from other types of fundraising. Getting foundations, government agencies, individuals and companies to support your cause requires different approaches. In their philanthropy, companies are often motivated by reasons that differ from other donors.
Corporate funding will be possible in the frame of a mutually-benefiting partnership based on trust and shared interests. This will usually take place in the process of different stages, therefore grant-seeking organizations should be well-prepared and flexible when approaching corporate donors.
There have been significant achievements of CSR projects in Nigeria in recent times, due to the huge investments of small, big and multi-national organizations working in Nigeria mainly in Construction, manufacturing, financial services sector, oil & gas sector, telecoms sector and some government agencies.
In Nigeria, some organizations seem to be taking the lead in this regard, and Nigerian consumers are daily becoming too demanding from various corporate organizations. Some people prefer to patronize more the organizations they perceived to be environmentally friendly and customer-focused.
Download the guide on "Corporate Foundations & CSR Programs in Nigeria" available exclusively for our premium members. This guide will provide information on certain points that are to be taken into consideration while approaching corporate donors, CSR Trends in Nigeria and a list of Corporate Donors providing funding support in Nigeria.
If you are a FundsforNGOs Premium Member, you can download this document by logging in here. Not a Premium Member? Sign up here!