Deadline: 24-Sep-21
The San Francisco Arts Commission's (SFAC) Ebony McKinney Community Stewards (EMCS) Grant to support the collaborative development and release of the Ebony McKinney Arts Leadership Grant with a focus on reimagining and centering racial equity, addressing harm, and the ideals embodied by Ebony: vision, determination, and advocacy for the arts as social practice.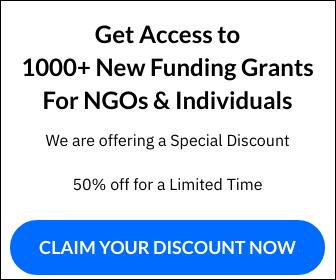 Funding Information
The anticipated grant request amount for the Ebony McKinney Community Stewards Grant is $ 40,000 based on current budget availability, and includes $ 20,000 for the Ebony McKinney Arts Leadership grantee.

Should additional City funding become available, the grant amount could be increased.
Eligibility Criteria
The applicant

organization must have experience with Black and woman-identified, nonbinary, or genderqueer communities as demonstrated in the application narrative.

The applicant organization's mission statement must be clearly focused on the investment, development, production, and / or presentation of arts, culture and social justice activities in San Francisco.

The applicant organization must have a demonstrated history of administering an arts-related re-granting program or distributing resources for at least two years at the time of application.

The applicant organization or fiscal sponsor must be tax-exempt and in good standing under Internal Revenue Code Section 501(c)(3).

Fiscal sponsors: Organizations that exceed the $ 1,000,000 income cap due to re-granting must verify their operational budget without pass-through funds at the time of application.

Applicants must upload audited financials from the most recently completed fiscal year demonstrating the dollar amount of pass-through funds.

Applicants must not be in default on any grants or loans from: 

S

FAC; 

other City departments (including but not limited to the Department of Children, Youth and Their Families, Office of Economic and Workforce Development, Mayor's Office of Housing and Community Development, Grants for the Arts); 

Northern California Grantmakers Arts Loan Fund; 

Community Vision Capital and Consulting; 

Community Arts Stabilization Trust;

and / or

the Ce

nter for Cultural Innovation.

This default clause was expanded due to the fact that SFAC has fiduciary relationships with these particular organizations.

The proposed project must take place in San Francisco between November 15, 2021 and June 15, 2023.

The organization must be willing and able to meet the requirements associated with receiving funds from the City and County of San Francisco.

In order to receive a grant payment from the San Francisco Arts Commission, you must become a registered, compliant supplier and meet the City of San Francisco's insurance and business tax requiremen

ts.
For more information, visit https://www.sfartscommission.org/content/ebony-mckinney-community-stewards-grant-emcs#general