Deadline: 31-Oct-20
The Global Environment Facility (GEF) Small Grants Program (SGP), implemented by UNDP Moldova, invites NGOs and CSOs to submit project proposals that enable them to meet global environmental challenges while addressing the needs of Sustainable Development.
The SGP motto is "community action with a global impact!".
The strategy of the country program of PGM GEF, for operational phase 7 (2020-2023) in the Republic of Moldova, was developed by a group of experts (Dr. Viorel Miron, Dr. Iurie Bejan, Gabriel Margineanu, Ina Coeru, Iurie Calestru, Marina Miron), co-opted by the Tourism Development Association of Moldova (November 2019-February 2020).
In order to demonstrate local support for the project and the sustainability of the results, the project must provide co-financing, at a level of at least 50% of the total project costs. Co-financing can be done in cash and in kind. Of the total co-financing, it is recommended that about 50% be in cash and about 50% in kind.
GEF SGP operates in 125 countries. SGP Moldova started financing projects in 2013. Since then, it has been successful in financing and providing technical support for more than 58 projects supported by grants.
Local action by civil society and community-based organizations, including stakeholder groups women, the elderly, young people, and people with disabilities are recognized as essential for forming alliances with multiple actors to generate global environmental benefits and contribute to:
GEF-7 programming directions,
The UNDP strategic plan for 2018-2021,
National priorities for achieving the UN Sustainable Development Goals,
Other international commitments.
Areas of Interest
Conservation of the terrestrial landscape at the community level;
Co-benefits of access to the low carbon energy system;
Chemicals management and waste management;
Catalysis of sustainable urban solutions;
Community-based adaptation.
Funding Information
GEF SGP provides grants of up to the US $ 50,000 to non-governmental and community organizations (NGOs / CBOs).
Eligibility Criteria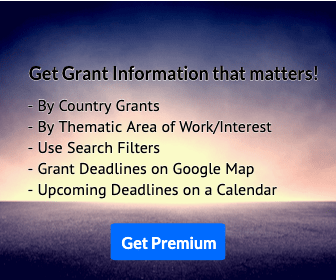 Under the conditions of the Regulation, eligible for obtaining subsidies in advance are the administrative-territorial units of the first level (villages and communes, as well as cities with a population of up to 10,000 inhabitants with resident status, according to the last census of population and housing) and legal or natural persons registered in rural localities which creates or develops non-agricultural activities.
Support measures are the following:

Measure 1: Improving and developing rural public economic infrastructure,
Measure 2: Renovation and development of the rural locality,
Value awarded: For measures 1 and 2, the amount of the grant awarded will be 80% of the value of the investment eligible, but will not exceed the amount of 3,000,000 lei.
Eligibility: Grant applicants under these two measures will be Level I Local Public Authorities.
Measure 3: Diversification of the rural economy through non-agricultural activities
Value awarded: For measure 3, the amount of the grant awarded will be 50% of the value of the eligible investment, but will not exceed the amount of 1,000,000 lei.
Eligibility: Applicants for grants under this measure will be both legal and natural persons, registered in accordance with national law and which creates or develops non-agricultural activities.
The term of implementation of the project will not exceed 24 months.
For more information, visit http://www.sgpmoldova.org/ro/news_item/130