Deadline: 12-Feb-23
The Alliance for gender equality in Europe (the Alliance), hosted by the Network of European Foundations (NEF), is launching a new call for proposals in the amount of 3.5 million euros.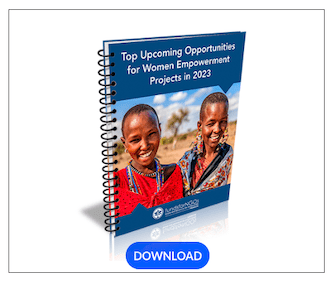 The call is aimed at driving impactful and sustainable community-driven solutions that promote economic opportunities for marginalised women, transgender, non-binary and gender non-conforming people in Europe. This funding is intended to further the Alliance's vision of a just and fair European society where gender equality is achieved for all people, especially those living in vulnerable situations.
Economic opportunities can be understood as the opening up of jobs, entrepreneurship and financial opportunities to previously under-served social groups. The Alliance acknowledges that economic opportunities depend on various underlying factors, including education, training and skills, public services and infrastructures, careers and income level, financial independence, small business development, affordable housing and social networks. Other factors such as gender and racial stereotypes, occupational segregation, physical and mental health, caretaking responsibilities and debt may be barriers to accessing economic opportunities.
What they aim to fund?
The proposal should demonstrate clearly how grantees will fulfil the overall objective of the call and the above definition of economic opportunities. Successful applications will present a solid approach with demonstrated sustainability for target groups and a clear idea of how and where to measure impact.
The Alliance believes in a holistic approach where improving the lives of individuals goes hand-in-hand with pushing for systemic change. They are also dedicated to listening to the individualised needs of small frontline organisations. Thus, they are open to supporting organisations that do not exclusively work on economic opportunities as defined above if they present strong needs and context assessments, address some of accelerators and/or barriers and have at least one of their activities aimed at opening economic opportunities. For example, they would consider an application from an organisation working on mental health if one of their specific activities involves access to job training.
Funding Information
The total funding for this call for proposals is 3 500 000€.
Funding will be awarded for 2 years: from July 2023 to June 2025.
Funding will range from 60 000€ to 150 000€ per grant.
Funding can be awarded either for core support or for project support. They understand core support as funding for any costs incurred by the organisation not targeted at specific activities/projects. It is usually used to fund costs that are considered as overhead such as salaries and trainings of admin/core staff, rents, admin and office costs, equipment… In project support, they accept salary costs; overheads are capped at 20%.
Grantees will be invited to participate in networking, peer-learning and capacity-building activities to reinforce their organisational development.
Regranting is possible.
Group applications are possible but only one organisation should be the lead and contact of the Alliance.
Each organisation can only submit one proposal.
Priority End Targets
For the purpose of this call, marginalised people are defined as low-income women, transgender, non-binary or gender non-conforming people of working age with one or more of the following characteristics:
from a migration background and/or ethnic minorities
victims of violence
from rural or disadvantaged areas
in situation of disability
perceived as young, i.e at an age of entering the job market
perceived as old, i.e at an age closer to retirement
Eligible Activites
The kinds of activities that could be supported under this call include the following:
Capacity-building activities for individuals or organisations, such as training, mentoring, coaching, empowerment and leisure activities.
Service provision.
Influencing, such as awareness-raising, advocacy, network building, research and policy work.
Some examples of potential funded activities:

Training women, transgender, non-binary, and gender non-conforming people to enter good quality jobs such as in the tech and environmental sectors.
Providing financial coaching to improve women transgender, non-binary and gender non-conforming peoples' ability to manage day-to-day finances and prepare for financial shocks.
Supporting women, transgender, non-binary and gender non-conforming people (social) entrepreneurs in generating stable income through their business
Advocating for decent work in highly gendered and racialised sectors such as in the care sector (jobs that look after people's physical, psychological, emotional and developmental needs, such as health services, education, social work, domestic work, etc.)
Improving work-life balance
Reducing the unpaid care burden
Preventing gendered and racial discrimination and violence at work
Eligibility Criteria
Completed proposal in English.
Belgium, Bulgaria, Croatia, Czech Republic, France, Germany, Greece, Hungary, Ireland, Italy, Luxembourg, the Netherlands, Poland, Romania, Slovakia, Spain, Sweden and the United Kingdom. This country selection is based on a balance between Northern, Eastern and Southern Europe.
Legally registered non-governmental civil society organisations, social enterprises, national or regional funds.
Small and medium frontline organisations. For the purposes of this call, frontline organisations are defined as being strongly grounded in, having direct relationships with and are accountable to the communities they support. Small and medium organisations are defined as having an annual budget under the following amounts (thresholds are based on the national cost of living and labour costs):

Organisations based in Belgium, France, Germany, Ireland, Luxembourg, the Netherlands, Sweden, and the United Kingdom: 600 000€
Organisations based in Bulgaria, Croatia, Czech Republic, Greece, Italy, Hungary, Poland, Romania, Slovakia and Spain: 450 000€

Regranting organisations are exempted from respecting these thresholds and should allocate the majority of the budget requested to regranting.
Organisations working with marginalised women, transgender, non-binary and gender non-conforming people.
Includes realistic plans and budget matching applicant capacity.
For more information, visit Alliance for gender equality in Europe.